Safari Water Slide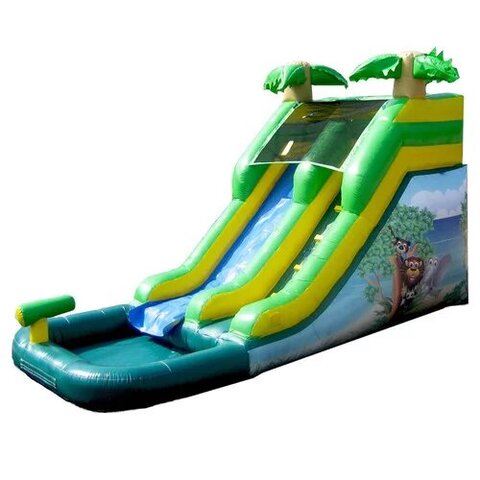 Setup Area: 11' W x 14'H
Actual Size: 9' W x 12' H
Age Group: 13 and under
Description
Welcome to the thrilling world of the Safari Water Slide! This incredible inflatable water slide is specifically designed to provide endless fun and excitement for kids aged 13 and under.
With its vibrant colors and captivating safari theme, this water slide will transport your little adventurers to a wild and exhilarating safari expedition. As they climb up the sturdy ladder, their anticipation will build, knowing that a thrilling ride awaits them at the top.
Once at the summit, kids will experience the sheer joy of sliding down the refreshing water slide, splashing into the cool pool below. The Safari Water Slide offers a safe and exhilarating ride, ensuring that kids have a blast while staying protected.
Constructed with high-quality materials, this water slide guarantees durability and safety. Our team of professionals ensures that all safety standards are met, providing you with peace of mind while your children enjoy their safari adventure.
Whether you're hosting a birthday party, a family gathering, or simply looking for a fun way to beat the heat, the Safari Water Slide is the perfect addition to any event. It will keep the kids entertained for hours, leaving them with unforgettable memories and smiles on their faces.
Don't miss out on the opportunity to create an unforgettable experience for your young ones. Rent the Safari Water Slide today and let the adventure begin!