George's Carousel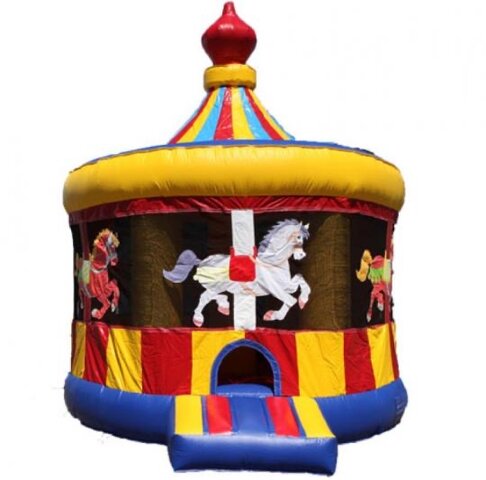 Setup Area: 15' Round x 15' H
Actual Size: 13' Round x 13' H
Description
You might be wondering about the name of the unit: Who is George? As most of our clients know, we are a small, family-owned business, and George is our son! George picked out this unit himself, and all profits created from this unit will be going directly into his piggybank. We hope that with this unit, we can teach George early on about money management, investments, work ethic, and more! We are so excited to introduce George's Carousel Bounce House - the ultimate inflatable attraction that will bring endless fun and excitement to any event!
Step right up and experience the thrill of a classic carousel ride combined with the joy of bouncing and jumping. This vibrant and colorful bounce house is perfect for birthday parties, carnivals, school events, and more. Designed with safety and durability in mind, George's Carousel Bounce House features high-quality materials and reinforced stitching to ensure a secure and enjoyable experience for children of all ages.
The spacious jumping area provides ample room for kids to bounce, while the inflatable walls and safety netting keep them protected and contained. Whether you're hosting a small backyard gathering or a large-scale event, George's Carousel Bounce House is the perfect addition to entertain and engage children. Let their imaginations soar as they bounce, laugh, and create unforgettable memories.
If you are looking to book a bounce house for your next event, you can feel good about renting George's Carousel, knowing that you are not only bringing fun and excitement to your event, but also aiding us in teaching our son important life lessons! We can't wait to bring the fun to you!
*Pricing subject to change