Chair Service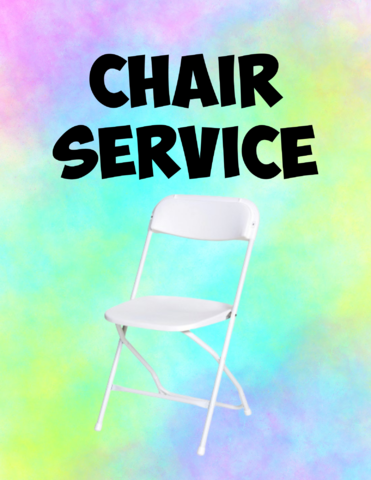 Description
If you are renting chairs from us and want them to be set up or torn down, this is where you can add on that service! Our crew will set up the chairs for you wherever you need, otherwise, chair rental is just a drop off service. If you would like the crews to both set up and tear down your chairs, please add-on double the amount of tables you've rented. For example, if you are renting 10 chairs and would like them both set up and torn down, please add on "20" in the quantity. If you would only like your chairs set up OR torn down, please specify this in the customer comments. Be sure to select the correct quantity of chairs you'd like for this service.
If you're selecting only the set up service, all chairs must be folded at the end of your event, and placed in an easily accessible area for our crew to pick up.
If you're selecting only the tear down service, all chairs will be dropped off in a location of your choice; our crew will handle the rest at the end of your event.